Discover the beneficial power of herbs and plants with phytotherapy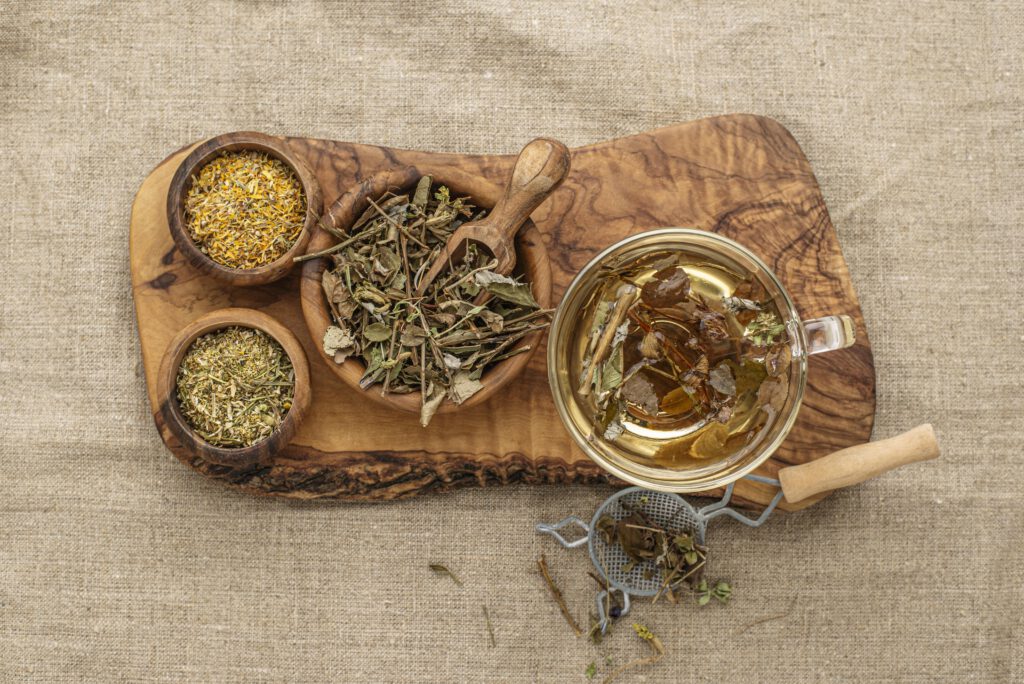 That herbs and plants are beneficial is nothing new. Deep down, we know that nature can heal us. With the rise of mainstream medicine, we seemed to have forgotten this, but more and more people are reaching natural alternatives again. Thanks to science, we know the effect plants and herbs have on the body and mind, reflected in phytotherapy.
What is phytotherapy?
Phytotherapy is the scientific branch of herbal medicine, in which centuries-old knowledge combines with modern studies. Centuries-old, because since the beginning of humanity, we have intuitively used herbs for healing. We can substantiate this with scientific research nowadays because this brings out herbs' power more and more, and we know how to use them most effectively. Phytotherapy was introduced at the beginning of the twentieth century by the French physician Henri Leclerc. His definition of phytotherapy is: treating, reducing, or preventing diseases in humans and animals with medicinal plants, parts of plants (leaves, flowers, seeds, roots), and their preparations.
What is the power of phytotherapy?
Phytotherapy uses herbs and plants' beneficial effects, paying close attention to the relationship between body and mind, making it a powerful method for chronic conditions and ailments that regular healthcare does not resolve. Phytotherapeutic substances are made from plants or parts thereof, such as bark, twigs, leaves, flowers, juice, etc. The plants are processed into infusions, compresses, tinctures, or pills. Pills and capsules are the most accessible and available form of phytotherapeutic substances. The advantage of these products is that they contain only natural substances, namely parts of plants and herbs. So they do not contain synthetic ingredients, which reduces the chance of side effects. Also, they are often suitable for children, babies, and animals in the proper dosage.
What is the difference between phytotherapy and homeopathy?
Phytotherapy and homeopathy are both natural medicines that use the healing power of herbs and plants. The two are vastly different from each other, with the most significant difference being that phytotherapy is scientifically substantiated, where homeopathy is (mostly) not. Also, phytotherapy is based on the Contraria Contrariis Curantur (Latin) principle (opposites cure opposites).  In contrast, homeopathy is based on the Similia Similibus Curentur (Latin) principle (which means, let similar things take care of similar things). In the Contraria principle, complaints are treated with means with opposite properties. In comparison, the Similia principle deals with means that call these same phenomena as the complaint. Simply (but not realistically) explained, it means that you treat cold according to the Contraria principle with heat and according to the Similia principle with more cold (with the expectation that a specific mechanism will come into effect). Another difference is that plant parts and minerals, honey, or pulverized shells are used in homeopathy. In phytotherapy, only plant parts are used.
The quality of phytotherapeutic products
Because humans have been using herbs for so long, there is a lot of knowledge available based on which medicines are being developed. Think aspirin (contains willow bark), codeine, and morphine (both made from papaver). Yet, most phytotherapeutic supplements are not medicines. In Europe, we can only speak of a medicinal product if it has been approved and registered as such. It is difficult for phytotherapeutic products because the number of active substances can vary per plant harvest, which means that end products always have a slightly different composition.  For example, one manufacturer grows its herbs and plants on its own grow fields, where another buys from suppliers. It is also essential for preserving the plants' active substances that low temperatures are used. Think of freezing the plant after harvesting and grinding it in still frozen condition. Or the low-temperature evaporation of the alcohol with which the active substances of the plant are made available. Not all manufacturers have a production process in which the herbs remain intact as much as possible, so there is a lot of difference in end products from producers. You see, the quality of phytotherapeutic substances can fluctuate quite a bit, which causes most supplements not to be registered as medicines and should not be prescribed by doctors. Fortunately, phytotherapeutic substances are available from the reform or nature store, and you can check for yourself what the production process has been. So always choose a brand with a production process that makes the supplement's quality as optimal as possible. Does the fact that phytotherapeutic products are not medicines make them less powerful? No, on the contrary. Plants are full of active substances that affect the body and mind. Especially if you suffer from chronic complaints that regular health care does not have an answer to, phytotherapy could offer a solution. It is advisable always to be well informed by, for example, a phytotherapist or a herbalist.
Can I work with herbs and plants myself?
Sure! Many herbs are safe to use yourself. For example, you are already working on phytotherapy when you drink mint tea or put a few sprigs of lavender under your pillow. Yet herbs, like medicines, also have contraindications and side effects. Therefore, as I wrote above, it is vital to be well informed and always accurately read and follow the instructions for use when buying phytotherapeutic products. Additionally: not everything that grows in nature is safe. There are also poisonous plants and mushrooms; keep that in mind.
My own experience with phytotherapy
I have always benefited a lot from working with herbs and phytotherapeutic substances. As long as I don't have an acute complaint, I always go down the natural path before I opt for regular medicines. I experience phytotherapeutic substances as less burdensome for my body, and I have fewer side effects from them. It is my experience and the way I bring phytotherapy into my life, but that can be very different for you. Stay with your feelings and always make sure you are well informed.
Written by: Charelle Casander.
Charelle has been fascinated all her life by the beneficial effect of herbs and plants, both physically, mentally, and energetically. Through self-study, she gained a lot of knowledge about these natural helpers, which she shares with great love in her articles.  
Was dit artikel nuttig?
Help ons om onze site te verbeteren