Food naming and food shaming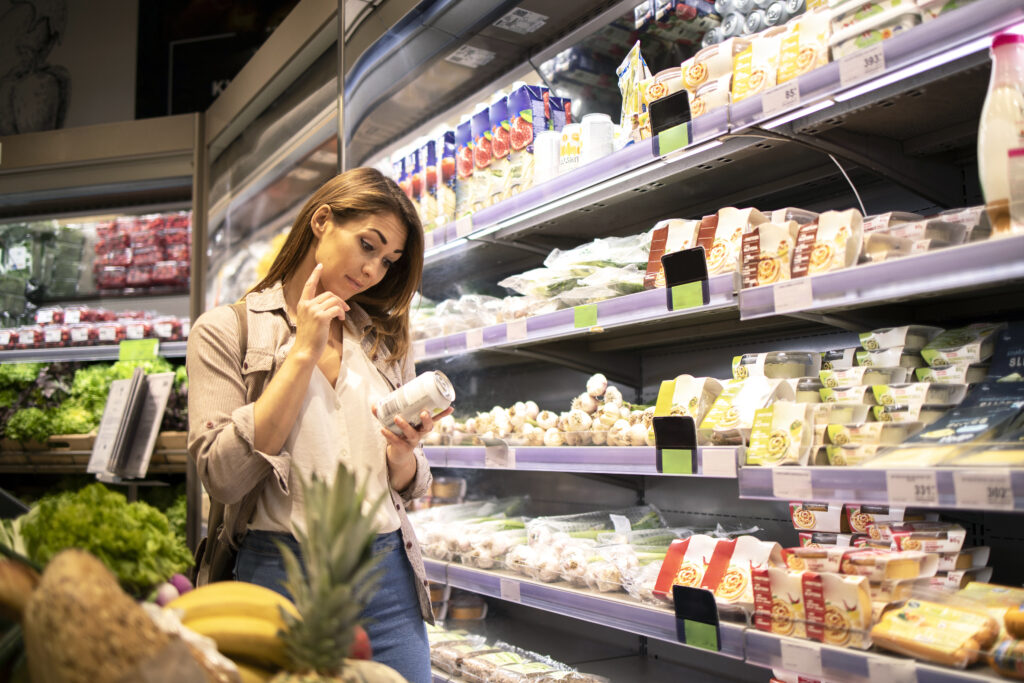 Food packaging. The marketers and design firms often know how to make something beautiful out of it. You see a beautiful picture of a superfood, for example the açai berry. You've read in the media lately about the many benefits of eating superfoods. So, you think, I'll buy this healthy juice. However, those who take the trouble to read the label see that there is only 0.03% açai berry in the pack, the contents of which could rather be described as water with chemical sweeteners and colorants. Meanwhile, such deception by food labels is increasing hand over fist, as is the struggle for profit versus equity for consumers. Players in this field include the food industry (meat, dairy and other) versus bodies such as Foodwatch, The Consumers' Association and BEUC (the umbrella organization of European Consumer Organizations). The latter are trying to stand up for the interests of citizens through legislation prescribed by the European Parliament. The Dutch Government, in fact, relies on self-regulation by the Food Industry. But you don't have to be a genius to realize that these are more interested in profit than in health.
Politicians, too, often allow themselves to be used by the heavily subsidized food industry. Last year, for example, they lobbied for a ban on terms such as vegetarian 'sausage' or soy 'milk'. The CDA and PVV supported this proposal, with the agricultural sector claiming it would be "confusing" for consumers. Of course, offering a vegetarian alternative is especially confusing for the sector's wallet. The proposal to ban the term "meat" was immediately dismissed in the first round of voting. However, the proposal to ban dairy-like terms such as oat 'milk' and 'like yoghurt' was initially adopted. This was then met with massive protest: Greenpeace, together with twenty environmental organizations, wrote a letter to the EU leaders calling for the proposal to be stopped. Over four hundred million consumers signed a petition by ProVeg, an NGO dedicated to replacing animal foods with plant-based alternatives, to get the proposal off the table. And they succeeded. In the spring of 2021, the decision was reversed. 'A huge victory for common sense,' said BEUC, indicating how important this is at a time when we are all aware of the need to eat more consciously.
Know what you're reading
What this example mostly illustrates, however, is the importance of self-education when it comes to reading labels. Knowing how to read a label is important if you want to make healthy, preference-based choices. Now, we can assume that you knew full well that almond milk doesn't really come from tiny baby almonds squeezed daily, the fact is that you didn't know that you are allowed to put a picture of a product, already big on the flashy label, if there's only a tiny percentage of said product in the package. And the battle for more justice in this wholesale deception proliferates; not only through deception of ingredients, also in terms of health claims such as "source of fibre," or there is substantial tampering with substitutes in products such as recently the scandal with the beefburgers where horse meat was processed without mentioning it. Regardless of whether horse meat is worse than cow meat, it is important that consumers know what they are eating. Foodwatch is an organization dedicated to this, among other things through campaigns such as 'Het Gouden Windei' (What is the most misleading product of the year?) and 'Het Meldpunt Misleiding' (The Misleading Reporting Point)
False claims
Fortunately, these days there are several ways you can help yourself. For example, there are apps that help you learn how to read and judge a label. For example, the Kies Ik Gezond app (Choose Healthy) from the Voedingscentrum (Nutrition Centre) or an app that keeps track of how many nutrients you consume in a day, such as Yazio. In practice, of course, it is not convenient to use your app to scan the content of every product you want to buy in the store when you get home from work in the evening. But once at home you can of course scan the contents of common products in your refrigerator and pantry, so that next time you can make more conscious choices. However, it is useful to be a little prepared when you go into the store. That's why we have listed the five biggest lies in the food industry for you.
– 0% fat / Less fat
Less or no fat comes at the expense of flavor. So, what comes in its place? Probably nothing good you can think of. Read up and see which fats are not so bad for you.
– Without added sugar
Here's a play on words with: 'added'. There is naturally enough sugar in many products; so it is not extra light or so, you cannot drink or eat extra much. 
– Descriptions for sugar
Sucrose Molasses, Maltodextrin but also concentrated fruit juice and nectar are 'nicknames' for sugar.
– Light
Can have different meanings depending on the product. If it says light on chips or peanut butter, then light means at least 30% less fat. But as mentioned elsewhere in this list, consider what replaces it as a flavor substitute.
– The term 'natural'
We tend to think that a product that says 'natural' is healthier. However, remember that there are many different types of sugars that are 100% natural.
Written by: Charelle Casander.
Was dit artikel nuttig?
Help ons om onze site te verbeteren