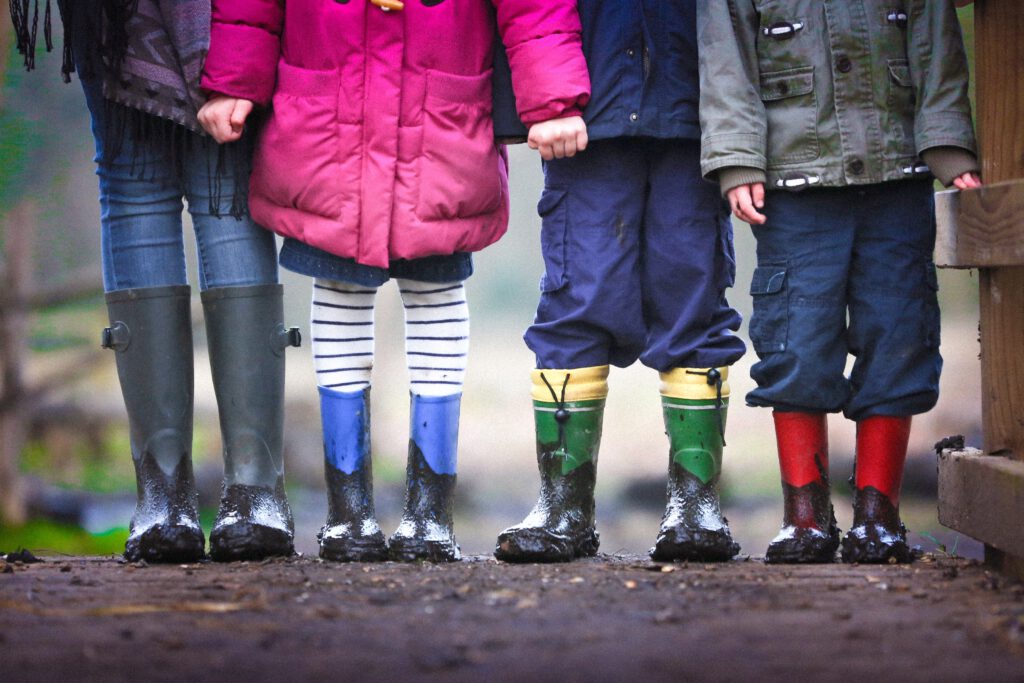 How special is the birth of new life! A newborn baby is completely dependent on its caregivers. But in a blink of an eye a stubborn toddler suddenly stands before you. This little person has undergone an enormous development in just one year. The most obvious development is growth. From birth to one year a child grows about twenty-five centimeters. Growing children are big consumers of nutrients. Let's take a closer look at what vitamins and nutrients your child needs.
Growing well with breast milk
Feeding an infant is pretty simple. Until about six months of age, a baby drinks only milk. Breast milk is preferred for this purpose. But if you can't breastfeed then there is baby formula. Although powdered milk has its limitations, it is a good substitute for breast milk. Moreover, science keeps researching and improving and recipes are increasingly adapted to what a baby needs.
Even though milk formula is getting better and better, breast milk is still the best choice. It is safe, clean and full of antibodies that help protect your baby from diseases. Breast milk provides all the nutrients a baby needs in the first six months of life. In the second half of the first year of life, breast milk still provides half of the nutritional needs. Until his second birthday, a baby gets as much as a third of the nutrients he needs from breast milk. [1]
Breastfed children do better in school, are less likely to be overweight and are less likely to develop diabetes later in life. For breastfeeding women, there are benefits too. The risk of breast cancer is lower than in women who have not breastfed.
Growing after the first half of the year
However, babies cannot continue to drink milk all their lives. At some point, they will have to eat solid food. Some babies eat solid food as if they have never had anything else. Other little ones have to get used to new tastes and textures. Breast milk and formula are mostly sweet and creamy. First bites can also taste sour, bitter or salty. The texture of new food also takes some getting used to. Rough, smooth, slippery, sticky, crunchy and juicy.
A child will sometimes have to experience a new taste up to fifteen times until he gets used to it. By the way, this does not mean that your child will like everything if you try it often enough. After all, taste preferences are partly innate. Breastfeeding also contributes to your child's taste development. Mother's milk tastes like what you have eaten that day. So by eating a varied diet, your baby gets to know different tastes.
What do you put in?
Growing does not happen by itself. Children go through tremendous development. For this they need healthy food, vitamins, minerals and other nutrients. It may sound crazy, but meat is one of the most important first meals for a baby. It is chock full of iron, zinc, B12 and protein. Research has shown that children who are fed meat in addition to breastfeeding have better zinc status and behavior at one year of age compared to children who were fed rice porridge. [1]
[1] Krebs NF, Westcott JE, Butler N, Robinson C, Bell M, Hambidge KM. Meat as a first complementary food for breastfed infants: feasibility and impact on zinc intake and status. J Pediatr Gastroenterol Nutr. 2006 Feb;42(2):207-14. doi: 10.1097/01.mpg.0000189346.25172.fd. PMID: 16456417.
Feeding your baby a meatball is still a bit too much of a stretch. Chicken liver, however, is a good candidate. According to the Weston A. Price foundation, liver contains the following healthy nutrients, among others:
Good absorbable protein
Natural and highly concentrated vitamin A
All B vitamins and especially B12
Good absorbable iron
Copper, zinc and chromium
CoQ10, a nutrient especially important for cardiovascular function [1]
Liver contains many of the nutrients and vitamins that are important for a growing child. Still think it's a little crazy to feed your baby liver? Then choose other foods with high nutritional value. Egg yolks, bone broth, sweet potato, fresh fish, vegetables and fruits in all the colors of the rainbow are all good candidates for those exciting first bites.
In addition to a healthy diet, a child may need supplemental vitamins and minerals. Especially if you don't have an adventurous eater, supplementation can be a godsend. Below you can read which nutrients are important for a growing child.
The most important nutrients for growing children
Vitamin K and D
There are two vitamins that are important from birth: vitamin D and vitamin K. Vitamin K is especially important for blood clotting and bone formation. Vitamin D has numerous functions in the body. This all-rounder not only ensures strong bones, teeth and healthy muscles but also a functioning immune system.
The Health Council recommends 150 micrograms of vitamin K per day for babies up to and including 12 weeks. In addition, the advice is to give 10 micrograms of vitamin D to your baby. Up to an age of four years.
Probiotics
If your baby was born by C-section, supplementation with probiotics may be helpful. Probiotics are bacteria that occur naturally in our intestines. These friendly critters play an important role in our health.
When a baby is born naturally he or she takes a big bite of bacteria from the mother along the way. This sounds dirty but is actually enormously useful. Provided the mother has a healthy intestinal flora. With a birth by cesarean section a child misses that first important step in the population of its intestines. Probiotics in powder form is then the solution!
When purchasing a probiotic, choose a product with relevant strains for young children. The product should contain at least the following strains. Bifidobacterium longum, Lactobacillus Helveticus, Lactococcus lactis, Streptococcus thermophilus and Lactobacillus rhamnosus.
Calcium and magnesium
Children are growing rapidly. Their bones are developing at a rapid pace. Calcium and magnesium are needed to build and maintain bones, teeth and muscles. One of the most natural sources of calcium and magnesium comes from Sango Coral from Okinawa, an island near Japan. The composition of this coral is almost identical to human bone. For children who create new bone tissue every day, a supplement based on Okinawa minerals is a good choice.
Iron
This is another important mineral that helps with healthy growth, neurological development and the formation of red blood cells. Red meat and especially organ meat, contains large amounts of iron. This mineral is found in food in two different forms: heme iron and non-heme iron. Heme iron is found only in animal products and has a higher bioavailability than the plant-based non-heme iron.
Does your child not eat animal products? Then make sure you combine a plant-based source of iron with vitamin C. This will ensure better absorption!
Especially in young children, it is important to pay attention to iron intake because they grow so fast. Children between the ages of 4 and 8 can generally get by with a somewhat lower dose. Girls who menstruate can also benefit from extra iron.
Omega-3 fatty acids
Children are like sponges; they absorb an enormous amount of information throughout the day. In addition to the physical exertion a child makes on a daily basis, their brain is also running overtime. Omega-3 fatty acids from oily fish help with healthy brain development. There is even evidence that omega-3 has a positive effect on behavioral and learning problems. It turns out that a supplement with enough EPA and DHA fatty acids has a similar effect on ADHD as regular medication. [1]
Nano Platinum
In children with ADHD, ADD and dyslexia, the communication between the left and right hemispheres of the brain is impaired. Nano Platinum contributes to the improvement of the stimulus transfer between the two brain hemispheres. Especially for school children, this peace in their heads is so important. Better focus and concentration can improve learning performance. Together with nano magnesium this is a perfect combination for more peace in those hard-working heads.
Multivitamin
A growing child has a lot going on. From learning to walk as a toddler to playing soccer three times a week as a teenager. Then of course there is school and playing with friends. It is not surprising that a child sometimes complains of being tired. Although a child can be tired for many reasons, a vitamin or mineral deficiency is something to keep an eye on.
A busy life, stress and tension increases the consumption of vitamins and minerals. Add to that the fact that children are not always the best eaters. Finally, soil depletion makes it increasingly difficult to get enough nutrients from our food.
A supplement with enough B vitamins, iron and magnesium helps a growing child make the most of his day. B vitamins contribute to good resistance to stress and reducing fatigue. In addition, a multivitamin ensures normal functioning of the immune system. Especially in these times, this is not an unnecessary luxury!
Want to read more?
Hopefully, after reading this blog, you will have more confidence in how to best support your growing child. Are you curious about how to better support a child with ADHD? Then this blog about nano magnesium is a good starting point!
Written by: Martine Verkaik
Sources:
[1] WHO. (z.d.). Breastfeeding. https://www.who.int. Geraadpleegd op 9 maart 2021, van https://www.who.int/health-topics/breastfeeding#tab=tab_1
[2] Krebs NF, Westcott JE, Butler N, Robinson C, Bell M, Hambidge KM. Meat as a first complementary food for breastfed infants: feasibility and impact on zinc intake and status. J Pediatr Gastroenterol Nutr. 2006 Feb;42(2):207-14. doi: 10.1097/01.mpg.0000189346.25172.fd. PMID: 16456417.
[3] Razaitis, L. (2017, 9 december). The Liver Files. The Weston A. Price Foundation. https://www.westonaprice.org/health-topics/food-features/the-liver-files/
[4] Derbyshire E. (2017). Do Omega-3/6 Fatty Acids Have a Therapeutic Role in Children and Young People with ADHD?. Journal of lipids, 2017, 6285218. https://doi.org/10.1155/2017/6285218
Was dit artikel nuttig?
Help ons om onze site te verbeteren