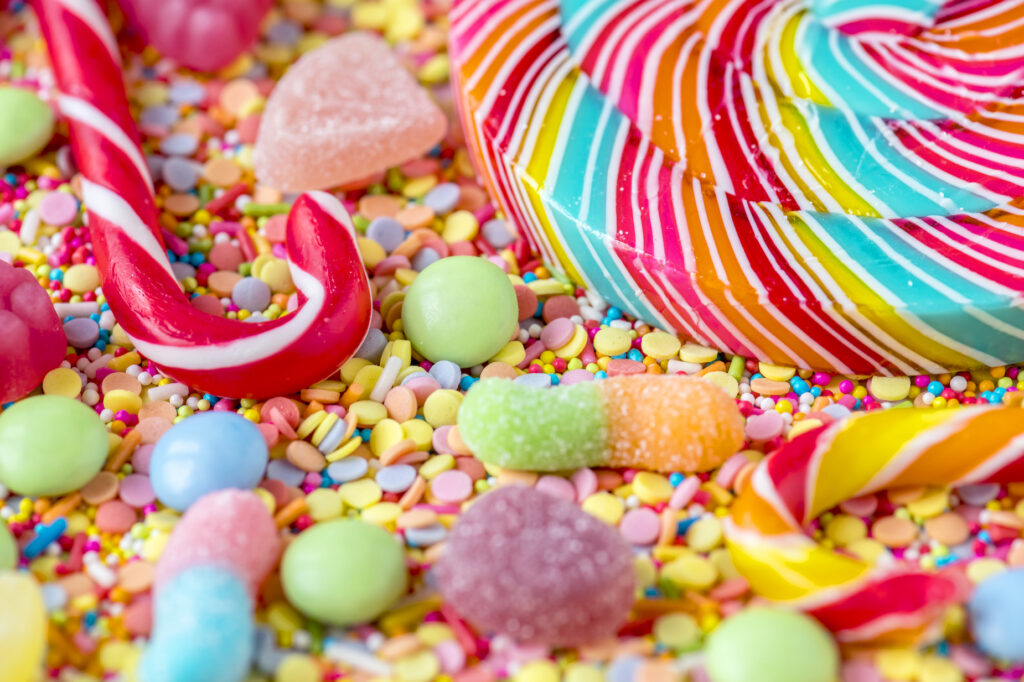 Ok. A bit of theory. Blood sugar indicates the level of sugar, or glucose, in our blood. Normally our body keeps this blood sugar level in our blood exactly in balance, but especially wrong food can disturb this balance. Our body gets glucose mainly from food, namely carbohydrates. These blood sugars then provide the cells throughout our body with much-needed energy. So we couldn't even do without sugars, because our bodies desperately need glucose.
Hard to lose weight? Pay attention to the glycemic index
The glycemic index indicates how quickly glucose from carbohydrates is absorbed into the blood. The lower, the better for your blood sugar. The higher, the worse. Refined sugar naturally has the highest glycemic index and is therefore a fast sugar, a sugar that is quickly absorbed by the body. It is therefore much better to choose 'slow' sugars. These are absorbed much more slowly by the body and release their energy much more gradually. As a result, these sugars have much less effect on blood sugar levels.
So the problem lies in the form of sugars that we take in today. Compared to the past, we have started to eat a lot of 'wrong' sugars over the years. This is because the food industry adds refined sugar on a large scale as a sweetener and preservative. Just pay attention to the labels on your groceries. Ever expect to find sugar in canned goods, mayonnaise or even coffee pods? The same goes for our carbohydrates. We have been increasingly replacing whole grain products with the "fast" carbs from white flour products.
Different types of sugar: which is which?
Refined sugar
Refined sugar – also called saccharose or sucrose – is sugar in which all the fiber, vitamins, minerals and other natural excipients have been removed.
Unrefined or natural sugar
Unrefined sugar is sugar that is naturally present in foods, such as fruit sugar (fructose), grape sugar (dextrose), malt sugar (maltose) and milk sugar (lactose). Because the natural excipients that help the body digest are still present, these natural sugars are much easier to process.
Added sugar
Added sugars are sugars that do not naturally occur in the product, but have been added to improve the taste or shelf life. Natural sugars can also be refined and added to other foods. In addition, it is a misconception to think that natural sugars have fewer calories than their refined sibling.
Quick sugars (simple sugars)
These quick sugars are absorbed quickly and cause high blood sugar spikes and deep lows. As a result, the need for these sugars also increases with each passing day. It goes without saying that it is not really a good idea to eat so many of these fast sugars – such as granulated sugar – unless you are involved in top sport.
Slow sugars (multiple sugars)
Sugars in products like potatoes, bread and pasta (starches) are absorbed much more slowly into the blood. You can do longer with this, the satiation is higher and you will therefore not want to quickly take more sugars.
Problem with refined sugar and fast carbohydrates
But what is the problem with these 'fast' carbohydrates and refined sugars? Because they lack all the natural additives that help the body digest, this form of sugar is rushed through the body super-fast. So fast that the pancreas can never keep up and reacts too late with insulin. Or in other words: first it causes your blood sugar level to skyrocket at a terrifying speed (the sugar rush) and then to plummet down at an equally dizzying speed (dip).
Effect of refined sugar on blood sugar level
Any idea what that does to your body? Science hasn't quite figured it out yet in terms of health effects, but surely it can't possibly be good to have your pancreas riding this daily roller coaster ride. On your struggle to lose weight, it has in any case a detrimental effect. You'll find that you need more and more sugar to get out of that slump and feel good. And as soon as you do, everything starts all over again. Not good, because that's where those extra pounds and that eternal yo-yo come from.
Sugar has the same effect on the brain as hard drugs
Research by endocrinologist and researcher Susanne la Fleur of the Academic Medical Center shows that sugar has the same effect on your brain as hard drugs. What did it show? When foods high in fat and sugar were combined they changed the serotonin balance. The start and stop button on eating behavior no longer worked properly, something the food industry gratefully makes use of. Think of that bag of chips that you can't stop eating despite your good intentions. That's how addictive sugar is.
Stopping with sugar? Cutting it out like a junkie
If you abruptly stop eating these bad sugars and fast carbohydrates, you will notice a lot of reactions; shaking, trembling, headaches, fainting….it's all part of the sugar addiction. Like a junkie, you really need to kick the habit and that takes about two miserable weeks. It may be an uphill battle for a while, but once you get to the other side, you won't miss the sugar. The fact is that we are just not well adjusted to eating refined sugar, which is highly concentrated and which we cannot process properly due to lack of exercise. Because it lacks natural substances that slow down the digestion process, it is absorbed super-fast by our bodies and we start peaking and crashing.
Does this mean that we should avoid all sugars? Again, that is not necessary. Better not even, because the body needs them too. But good sugars and not the refined and addictive variety that is added to everything nowadays. Eat a varied diet, unprocessed, fresh and as natural as possible. Choose 'complex carbohydrates' such as whole meal pasta, spelt and oatmeal. These are absorbed much more slowly by the body and release their energy more slowly. Try to eliminate all refined sugar from your life as much as possible and look for good substitutes with lots of fiber. Pay close attention to this, because it takes time to get used to a new eating pattern.
Tips for a stable blood sugar level
– Avoid quick sugars and carbohydrates, including too much fruit and alcohol.
– Eat at least three full meals with enough protein.
– Eat more good fats. Especially omega-3 fatty acids and coconut oil balance your blood sugar level.
– Spread your intake of carbohydrates throughout the day.
– Exercise regularly. This will ensure that the cells in your body respond better to insulin.
– Reduce stress, because the body makes more insulin when under stress.
– Sleep enough for an optimal functioning of your blood sugar level.
So all we have to do is go into the supermarket with a list of sugar synonyms and scan the labels on our shopping thoroughly. Because it turns out there are quite a few inventive and misleading synonyms for refined sugar. Learn to recognize these sugar synonyms and use your common sense for a healthier life. Does the product consist of more than seven ingredients including a lot of exotic names? Then chances are you're dealing with a super-inventive food marketer who knows how to pull the wool over your eyes. Stay away from all A-brands and opt for private labels is perhaps our most important tip.
On the road for what?
Refined sugars can be found in the most unexpected places: rusks, bread, muesli, smoked salmon, peanut butter, fruit juices, dairy products, but also in health drinks like Yakult and Optimel.
Pay close attention to what's on the labels, as there are many different names for sugar used, such as: caster sugar, brown (beet) sugar, dextrose, grape sugar, fructose, galactose, jelly sugar, glucose, glucose fructose syrup or hfcs (high fructose corn syrup), honey, invert sugar, candy sugar, kitchen syrup, granulated sugar, lactose, maltodextrin, maltose, molasses syrup, powdered sugar, cane sugar, sucrose, sucrose syrup, table sugar, vanilla sugar, liquid sugar, fruit sugar, white sugar.
Natural help for a stable blood sugar level
Of course you can radically change your lifestyle for a stable blood sugar level, but there is also plenty of help from nature to give you a hand. These remedies have been scientifically researched and proven to have an effect on blood sugar levels.
– Probiotics: the good gut bacteria can improve your body's processing of sugars and carbohydrates.
– Apple cider vinegar and/or lemon: make your cells more sensitive to insulin so the body can use it better.
– Cinnamon: this balances your blood sugar levels and quiets cravings.
– Vitamin D: can improve the function of the pancreatic cells that make insulin and increase insulin sensitivity in the body.
– Magnesium: contributes to normal insulin release and insulin action in your body tissues.
– Chromium: may enhance the effects of insulin or support the action of insulin-producing pancreatic cells.
Written by: Sandra Zuiderduin
Was dit artikel nuttig?
Help ons om onze site te verbeteren