Melissa: the herb for more gentleness in your life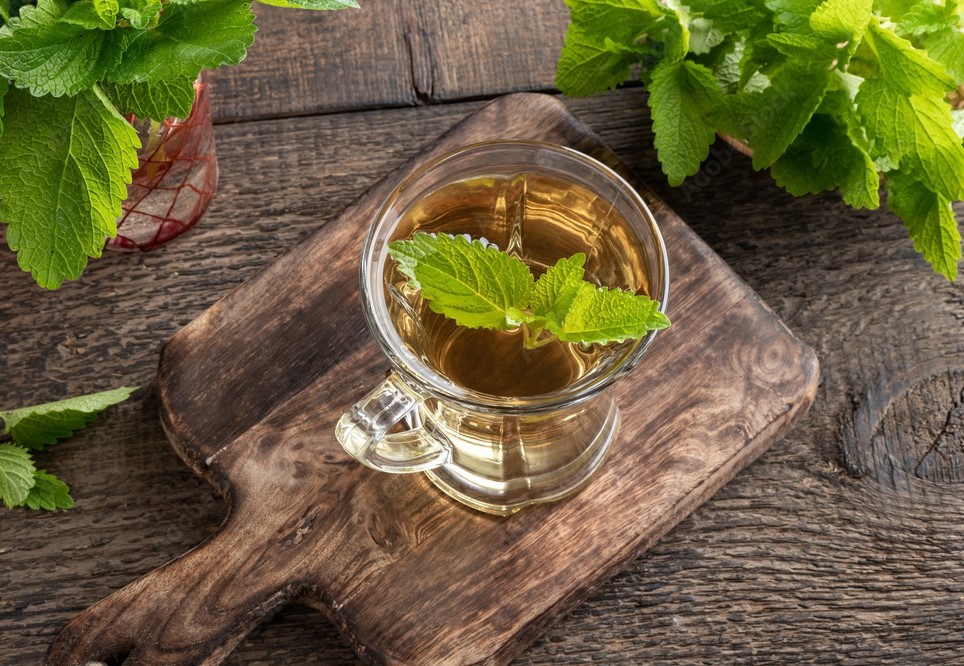 If you worry easily, are hard on yourself and are always ready to help others, then melissa brings peace and relaxation. This herb works like a soft blanket under which you can rest and come back to yourself. Also, if you suffer from stress, stomach cramps and nerve complaints, lemon balm comes to the rescue!
What is lemon balm?
Lemon balm (Melissa officinalis) has a whole range of beneficial effects, which has given this herb many names over the centuries. For example, you can also find melissa under the name lemon balm, bee herb, lemon herb, women's herb, and heartwort. The name Melissa is ancient Greek for honeybee, a reference to the honey-sweet scent of this plant, which bees love. A nice plant for the garden, if you want to give the bee civilization a helping hand, but also if you can appreciate a calming tea from time to time.
Soothing effect of Melissa
Melissa is a lovely plant that brings peace and gentleness. Its calming effect comes from the large number of phenolic acids that melissa contains and its effect on the limbic system. The limbic system is the part of the brain that has to do with expressing, feeling through, and processing emotions. People who are prone to worry or who feel jittery and restless are calmed by the soft blanket of melissa.
In addition to relaxing the mind, melissa also relaxes the body. The herb is beneficial for various nervous disorders, digestive problems, and disturbed sleep. A study on sleep apnea (1) found that people who used melissa experienced fewer interruptions in sleep, less anxiety, less stress, and less depression than those who were given a placebo.
Melissa calms, but also has a refreshing effect. The plant gives renewed courage and purpose, so this plant, especially during the day, gives you more peace and space. Looking for an herb that really helps you sleep through the night? Then try passionflower, golden poppy, or valerian.
Lemon balm and rosemary acid: anti-inflammatory and skin-soothing
Lemon balm contains a lot of the phenolic acid rosemary acid, a substance with anti-inflammatory properties that supports the immune system. Lemon balm is therefore often used for colds and skin irritations, such as insect bites and eczema. Rubbing a fresh leaf of lemon balm over your skin releases the plant's natural essential oil and instantly calms the skin. Because lemon balm contains the substance citronella, it can also help you keep insects at bay, so the chances of being bitten are suddenly a lot smaller.
Melissa for stomach and intestinal cramps, and menstrual cramps
The stomach, intestines and digestion can benefit considerably from a melissa tea or supplement. Mainly complaints caused by tension or nerves are relieved by this comforting herb. Melissa relaxes and the presence of copper in this plant promotes muscle relaxation, reducing stomach and intestinal cramps. Melissa is also very soothing for menstrual cramps and other problems related to the monthly cycle.
How to use lemon balm?
Lemon balm can be used in many ways. For example, you can make tea of it, vaporize the essential oil in a diffuser, or take the herb as a supplement in the form of a capsule. In addition, Melissa is delicious through salad and in other dishes, so once you have this little plant in your garden, you can let your creativity run wild! Think pesto, iced tea and pasta sauce.
If you choose to use a supplement, look for one that is made from the extract of the leaves, extracted at a low temperature. Ideally, the manufacturer has grown the melissa itself organically on European soil. Even if you want to use tea bags, it is wise to choose organic (you don't want to drink pesticide tea) and ask at the shop for an organic lemon balm plant for the garden.
Always consult your doctor or a phytotherapist before using lemon balm, especially if you are on medication, pregnant or breastfeeding.
Tea recipe with lemon balm
Ingredients: 1l water, 4 sprigs of mint, 4 sprigs of lemon balm, 50g coconut blossom sugar, two bags of green tea, ice cubes and three (organic) limes.
Put 250ml water in a pan, together with the sugar. Bring to the boil. After a few minutes, turn the heat down low and let the water cool to about 80 ◦C. Add the tea bags, half of the mint and half of the melissa to the water and let steep for a while. When the tea is completely cooled pour it through a strainer into a pitcher. Squeeze the limes and add the juice to the tea. Add the rest of the lemon meringue, mint, and water and top with ice cubes. Enjoy!
Sources
(1) The effects of Melissa officinalis (lemon balm) in chronic stable angina on serum biomarkers of oxidative stress, inflammation and lipid profile. Asia Pac J Clin Nutr. 2018;27(4):785-791 Authors: Javid AZ, Haybar H, Dehghan P, Haghighizadeh MH, Mohaghegh SM, Ravanbakhsh M, Mohammadzadeh
Written by: Charelle Casander.
Was dit artikel nuttig?
Help ons om onze site te verbeteren