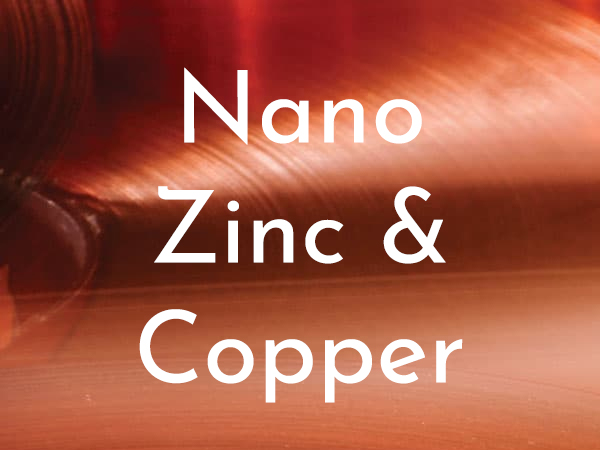 Explanation
Zinc and copper work together on a number of levels: fighting bacteria and viruses, maintaining healthy skin and shiny, pigmented hair, strong nails, joints and bones, favorable cholesterol levels and good cognitive functions.
In terms of absorption, they are each other's antagonists. You could say that they are rivals in the battle for absorption into the bloodstream. Copper and zinc use the same receptors in the body for absorption. Ten times more of zinc is needed than of copper. In
combination with today's lifestyle, a zinc deficiency is therefore more likely to occur than a copper deficiency. Because copper then has no rival, a relative copper surplus can occur.
So when you have a zinc deficiency with a relative copper surplus, you start with nano zinc. After the balance has been restored, after 1 to 2 months, you switch to the nano zinc with copper. Because ten times as much zinc is needed, the nano zinc and copper is composed in that exact ratio of zinc to copper: 10:1. In theory, there can also be a copper deficiency with zinc excess, but this is almost never seen.
In case of zinc deficiency, start with nano zinc, and after 1 to 2 months switch to the nano zinc and copper.
Nano zinc is first choice
· In the case of a detected or suspected zinc deficiency.
· In the case of a detected copper excess.
· In mental illness. Especially depression, autism, ADHD and schizophrenia. Always start with nano zinc, after 2 to 3 months switch to nano zinc with copper.*
· When using a copper IUD as contraception.
· For eye complaints (ingest and spray into eyes).
· When you want to refill a nano zinc spray, for example, for skin rashes or dry eyes.
· In Wilson's disease (copper stacking).
An imbalance between zinc and copper has been associated with various mental disorders, such as autism, Alzheimer's disease, postpartum and other forms of depression, ADHD and schizophrenia. For an optimal status of various neurotransmitters, such as GABA, dopamine and norepinephrine, this balance is crucial. In the above mentioned conditions zinc is essential supplementation, but copper is undesirable until the balance is restored. Then it is time to switch to the nano zinc and copper.
Nano zinc and copper is first choice
· If zinc is used for more than 2 months, even if people take supplements with zinc, which does not include copper.
· With frequent use of vitamin C in doses above 1500mg.
· In strengthening connective tissue and bones.
· For maintaining strong, shiny and pigmented hair and counteracting grey hair.
Nano zinc and nano zinc and copper:
· For intestinal and immune disorders such as PDS, Crohn's disease and leaky gut syndrome.
· Strengthens the immune system in infections, inflammation and autoimmune disorders.
· For flu and colds.
· Stimulates growth and muscle building.
· For strong connective tissue and healthy bones.
· For maintaining strong, shiny and pigmented hair.
· For skin complaints and skin damage.
· For sore throat and hoarseness.
· For libido and fertility.
· For eye complaints.
· For a healthy prostate.
· Promotes mental well-being, focus, memory and solution-oriented thinking.
· To supplement a vegetarian/vegan diet.
· For white spots and streaks on nails.
· In cases of impaired sense of smell and taste.
· In pregnancy.
What is nano zinc and nano zinc and copper?
Nano zinc and nano zinc and copper are both a zinc supplement consisting of the smallest possible pure or elemental particles (elemental means not bound to another substance) of zinc and zinc with copper. The particles are dissolved in purified and vitalized water. The tiny zinc and copper particles are absorbed in the mouth within one minute and do not need to pass through the gastrointestinal tract. Therefore, nano zinc and nano zinc copper has no adverse effect on the intestinal flora and works faster than any other form of zinc. Moreover, you can also apply nano zinc and nano zinc copper externally, because the skin completely absorbs the small particles. Nano zinc and nano zinc and copper are free of excipients and therefore 100% pure
Indications for use
⦁ ADHD
⦁ Aphthous
⦁ Alcoholism
⦁ Allergies (anti-histamine action)
⦁ Contraceptive Pill
⦁ Autism
⦁ Autoimmune disorders, such as rheumatoid arthritis
⦁ Bodybuilding and other intense athletic activity
⦁ Chronic kidney and liver disease
⦁ Intestinal problems, PDS, celiac disease, Crohn's disease and diarrhea
⦁ Diabetes and metabolic syndrome
⦁ Diet rich in soda, sugar, coffee, grains and legumes
⦁ Dry eyes (zinc spray)
⦁ Erectile dysfunction
⦁ Prostate Complaints
⦁ Frequent ejaculation
⦁ Physical and mental exhaustion
⦁ Flu and colds
⦁ Stunted growth
⦁ Hair loss, alopecia ⦁ Hoarseness
⦁ Skin problems (acne, eczema, shingles, psoriasis, rosacea, sores)
⦁ Infections
⦁ Growing children
⦁ Leaky gut syndrome
⦁ Injury (injuries, wounds, surgeries, trauma)
⦁ Libido Loss
⦁ Diaper rash (zinc spray)
⦁ Gastric Ulcer
⦁ Mucositis (due to chemo, radiation)
⦁ Eye conditions such as night blindness, cataracts and macular degeneration
⦁ Building and maintenance of hair, skin, nails, bones and teeth
⦁ Pigment spots
⦁ Smoking
⦁ Poor wound healing
⦁ Sickle cell anemia
⦁ Testosterone deficiency
⦁ Increased cholesterol levels
⦁ Decreased resistance
⦁ Pregnancy
More about zinc and copper
Zinc has been officially recognized as an essential mineral since 1963. Our body contains about 2 to 4mg of it. Zinc is, like magnesium, essential for every cell in our body. A serious zinc deficiency does not occur easily. However, a mild zinc deficiency is common and increases the susceptibility to infectious diseases and weakens our immune system. The immune system depends on zinc for the construction and activation of various white blood cells, including interferons (IFN).
Interferons are natural proteins (glycoproteins) that are secreted into the cells of the immune system after contact with viruses, bacteria or fungi. They play an important role in the functioning of the immune system. A (mild) zinc deficiency therefore contributes to chronic diseases, a weakened immune system and the development of cancer cells. Zinc is also significantly involved in the production of energy, cell division and cell differentiation (= process, in which cells increasingly differ in form and function). This is necessary for growth, building, repair and (wound) healing of muscles and tissues. The growth and development of the (unborn) child and (young) adults also depends on the zinc status.
Body cells depend on enzymes for their function: necessary proteins to make chemical reactions possible, also called catalysts. Enzymes, in turn, often depend on coenzymes. Zinc, in ionic form, is a coenzyme, for more than 300 metalloenzymes (metal – or mineral-dependent enzymes). An example of an important enzyme dependent on zinc is delta-6-desaturase. This enzyme is required for the synthesis (formation) and conversion of fatty acids such as the conversion of ALA to EPA and of EPA to DHA. Fatty acids are essential for the stability and function of our cell membranes, hormone balance and regulation of inflammatory factors.
(Other metals such as magnesium, iron, and copper are also coenzymes for the relevant metalloenzymes in ionic form.)
Furthermore, zinc ions (like copper and silver ions) have direct antimicrobial and antiviral activity.
Copper helps to ensure that iron is stored in hemoglobin and thus plays a role in iron metabolism and oxygen transport in the body. Copper is involved in the synthesis of melanin, which causes pigmentation of skin and hair and thus combats aging and pigmentation spots.
The synthesis and crosslinking of collagen and elastin are dependent on copper and important for the firmness and elasticity of skin and connective tissue. Copper contributes to a youthful skin and healthy organs such as lungs, heart and blood vessels.
Both zinc and copper are also important for the growth and development of bones and tissues, new formation of blood vessels, and synthesis of hormones and neurotransmitters.
An optimal copper status promotes psychological and mental well-being and an optimal energy supply to our bodies.
Although severe copper deficiency is not common in humans, mild copper deficiencies are not rare. In fact, in farm animals (animals kept for meat, milk, wool, etc.), copper deficiency is the most important deficiency worldwide.
The importance of copper to animals and humans has been known for almost a century. The human body contains about 100mg of it, although measurements are scarce. Copper is found mainly in the brain, kidneys, liver and heart: about 3 to 5mcg/gr. Copper is a cofactor for cytochrome-c-oxidase, the enzyme in the last stage of the electron transport chain; the energy process in the mitochondria. Thus, copper is an essential element for our energy balance.
Bones and muscles contain as much as 50% of the total amount of copper.
As a cofactor of various coenzymes and metalloproteins, the mineral is also important for antioxidant defense and control of inflammation and
allergies.
In the fight against germs, copper has come into focus in recent years. A metal whose germicidal effect – remarkably – was already known in ancient times. For example, an Egyptian text on a papyrus scroll, dating from between 2600 and 2200 BC, describes how copper can be used to disinfect wounds and sterilize water.
Greeks, Romans, Aztecs and other ancient civilizations also knew the antimicrobial properties of copper. They used it, ground into powder, against skin diseases. Archaeological finds from Pompeii and Herculaneum also show that Italian physicians used instruments made of copper and bronze in the first century.
Archaeological finds from Pompeii and Herculaneum also show that Italian physicians used instruments made of copper and bronze in the first century.
Was dit artikel nuttig?
Help ons om onze site te verbeteren