Skin conditions? 100% natural care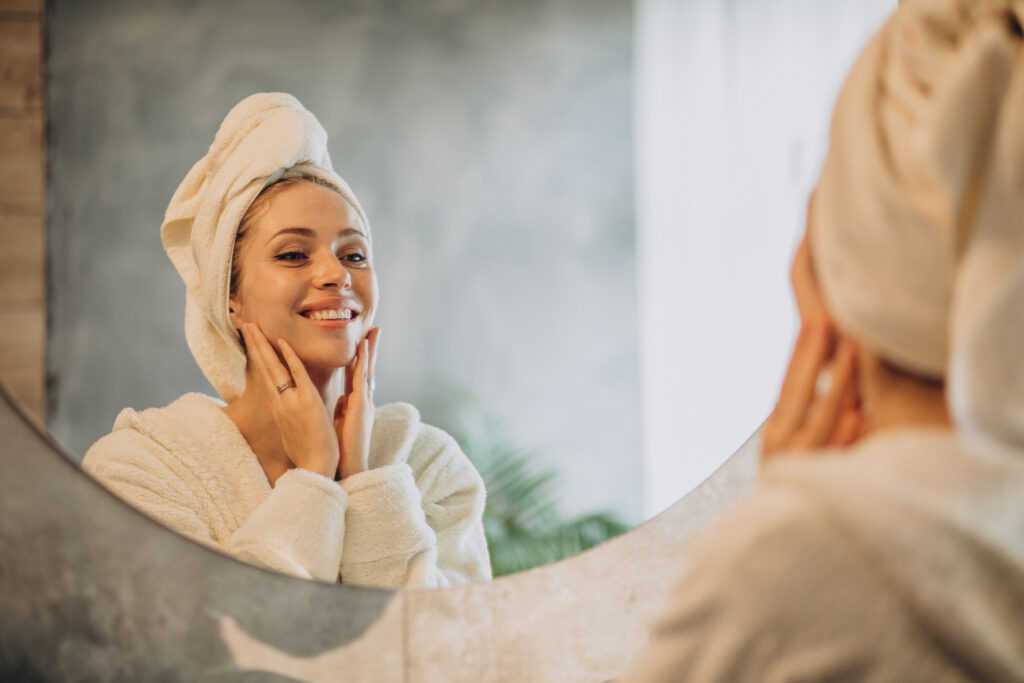 Pimples, bumps, rashes, dryness and aging…. Our delicate skin is the mirror of our health. So when things don't go our way, we immediately see it in the form of common skin conditions. Often, we settle for this or smother ourselves with something that only seems to make things worse. But did you know that your skin problems can be solved just as well naturally? From now on, your skin will be the radiant center of attention with natural care from inside and out!

How is our skin constructed?
Our skin consists of several layers. For example, the upper epidermis protects against bacteria, while the dermis contains blood vessels, sweat glands, sensory organs, hair roots and hair muscles. Finally, the subcutaneous fat layer protects, energizes and insulates. On the inside, the skin is covered by mucous membranes, which makes it very vulnerable. After all, mucous membranes are sensitive and dry out easily.
With an average surface area of 1.5 to 2 m2 per adult, our skin is the largest organ in our body. And as with other organs, its function can be disrupted. Especially when you consider that the skin itself is only 1 to 2 mm thick. In addition, our skin is the mirror of our health. Is there something wrong in our body? Then we see that immediately in the form of various types of skin disorders back. You may suffer from pimples, eczema, rashes, dry skin, blemishes or skin aging.
Most common skin conditions
acne
skin aging
sensitive dry skin
(moist) eczema
bumps or other rashes
blemishes
How do skin problems arise?
Because the skin is so thin, sensitive and fragile, problems can easily arise. For example, internal factors such as inflammation, poor detoxification or stress are reflected directly in your skin. But external factors such as dry air or too little moisture can also determine the condition of the skin. Do you suffer from chronic skin conditions? Then a malfunctioning gut, also called a leaky gut or leaky gut, could be the reason.
What is a leaky gut?
A leaky gut is a condition, in which tiny holes appear in the intestinal wall. The mucous membrane that lies over the intestinal wall is usually inflamed, preventing the good intestinal bacteria from adhering properly. With a leaky gut, waste products and partially digested food can penetrate the intestinal wall and enter the bloodstream. From there, it can cause damage throughout the body.
This causes a variety of problems, such as inflammatory and allergic reactions, mood disorders and hormonal problems, but also common skin conditions. A leaky gut also means that important nutrients are less well absorbed by the body. This further affects overall health and thus the skin.
Role of nutrition and skin problems
You are what you eat, they sometimes say and in the case of skin diseases nothing could be further from the truth! Making sure that you feel good about yourself and have sufficient nutrients available is the most important condition for a radiant skin. In any case, make sure that you drink at least 2 liters of (purified) water daily to let your organs do their work properly and remove waste. Unprocessed, fresh and unsprayed organic food also helps your skin to shine more.
But did you know that you can literally eat and drink yourself beautiful too? For example, the antioxidants from berries help fight skin aging, while foods rich in omega-3, sulfur and zinc help with inflammation. Unfortunately, in people with acne, eczema, allergies or food intolerances, food can also have an adverse effect. For example, some react strongly to citrus fruits, dairy, strawberries, pork and alcohol. Try to find out what foods trigger your skin problems and limit them.
Better to avoid with skin problems
refined sugars
fried foods and other trans fats
artificial sweeteners
convenience food
e-numbers
alcohol
foods that cause allergic reactions
dairy
gluten
lots of animal proteins
Do take this for skin problems:
at least 2 liters of purified water per day
fruits and vegetables
antioxidants (from berries and green tea, for example)
good fats (especially emphasis on omega-3)
fresh and unprocessed foods
unsprayed and organic foods
foods containing sulfur and zinc (both strongly anti-inflammatory)
Natural help for skin problems
Tired of all those hormone ointments that only thin the skin and only work temporarily? Or an even drier skin because of the greasing with vaseline? Or on the heavy medication for your acne, but with all the associated side effects? Stop with these regular symptom control, but tackle the condition of your skin naturally. It can be done with the following help from inside and outside.
Zinc: the building block for the skin
Thus, the absolute must in your natural skin care is the mineral zinc, an important building block for the skin. It is anti-inflammatory, maintains the mucous membranes and increases the resistance of the skin. You can take it both internally in the form of a supplement, but also very well as a spray. Especially when it comes to blemishes, eczema and inflammations on the skin, a spray with the mineral zinc is a very fine support.
Gold: radiant collagen booster
Another thing that should not be missing from your bathroom is the element of gold. Did you know that gold prevents skin aging because it stimulates the production of the body's own collagen. And collagen is responsible for the elasticity and firmness of our skin. What a great tool so in your fight against wrinkles, rosacea and irregularities.
Platinum: powerful antioxidant
Because you don't want to miss platinum in your daily skin care either. Both taken internally in the form of nano platinum or in the form of a spray, platinum works as a powerful antioxidant. The miniscule nano mineral particles have the power to protect all body cells against harmful processes that can cause diseases. Thus it protects against free radicals, has a cell regenerating effect and prevents skin aging.
Powerful trio for skin firming
Vitamin C, silicon (silicic acid) and hyaluronic acid also have the same protective and skin-firming effect. All three are known for their powerful anti-ageing effect. Whereas silicon is more supportive of connective tissue problems, hyaluronic acid works more as a moisturizer so that both combat premature skin aging. Vitamin C again is a strong antioxidant that protects the body from free radicals that can damage the skin and cause premature aging.
Omega 3 and probiotics: in case of skin inflammations
Do you really suffer from acne, rosacea or other skin problems with inflammation? Then it's time to get a little more thorough. For example, Omega 3 EPA has a strong anti-inflammatory and mucosal healing effect. But also a probiotic with the right strains of bacteria can help you improve the resistance of your skin. Especially if the skin problems are chronic and come from the gut.
What to do when you have a chronic skin condition?
Have the skin problems been going on for a while, are the symptoms recurring or are they very persistent? Then it is important to take a good look at the intestines. A poorly functioning gut, also called a leaky gut, can be the cause of many chronic skin problems. If so, it is wise to address the cause and bring the gut back into balance. There are certain protocols of several weeks and cures that first cleanse, then repair and then strengthen the gut. More information can be found at www.nano-mineralen.nl/leaky-gut.
Was dit artikel nuttig?
Help ons om onze site te verbeteren