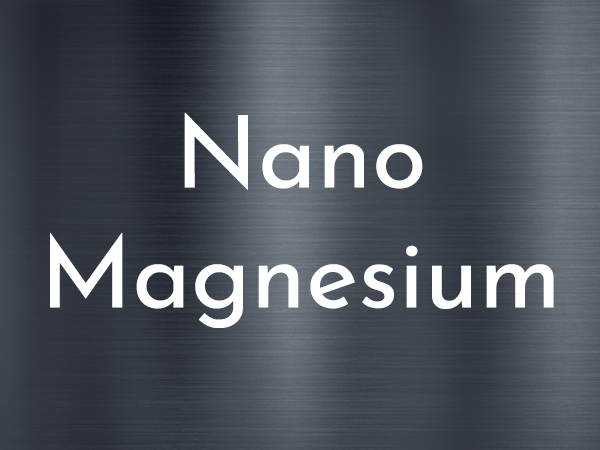 Nano magnesium consists of the smallest possible particles of magnesium in its pure or elemental form, which, as it were, is dissolved in purified water. This form of magnesium can directly enter the bloodstream, which makes it work faster than any other form of magnesium, sometimes within one minute! Nano magnesium is suitable for both internal and external use.
Nano magnesium:
It helps with stress, fatigue, and (mental) exhaustion.

It helps against cramps and relaxes muscles and nerves.

Gives more energy.

Supports mental balance, concentration, and psychological functions.

Relieves headaches and migraines.

Contributes to healthy bones and teeth.

It helps to counteract cardiac arrhythmias and increased blood pressure.

It provides relief for PMS and other hormone-related complaints.
Indications for use
Alcohol abuse

Anxiety and panic attacks

Burnout

Concentration problems

Depression

Diabetes Type 1 and 2

Eating disorders

Hearing problems and ringing in the ears

Sensitivity to light and sound

Sensitivity to radiation

Heart complaints, such as arrhythmias

High blood pressure

High coffee and sugar intake

Headache and migraine

Intensive dreams

Intensive sports practice

Liver disorders

Leaky gut and bowel complaints

Heartburn inhibitors

Metabolic syndrome

Osteoporosis

Excessive sweating

Menopause complaints

PMS

Irritability

Back pain

Sleeping problems

Muscle cramps

Stress

Raynaud's syndrome

Tooth decay

Trembling eyelids or corners of the mouth

Fatigue, physically and mentally

Endocrine disruption

Nerve pains

Pregnancy
Magnesium for our body
Magnesium is an essential macro-mineral. It means that our body needs (relatively) much of it, just like calcium, potassium, sodium, and phosphorus. The body itself can not make it, so we are dependent on food(supplements). Magnesium also belongs to the electrolytes: minerals that help the body regulate the nerve and muscle function and maintaining the right acidity or PH value, also known as acid-base balance. The mineral acts as a cofactor (accompanying) in more than 300 processes in the body, including the building of proteins, cellular energy production and cell growth and reproduction, the formation of DNA and RNA, fat and protein metabolism and stabilization of our mitochondrial membranes ("walls of our energy factories"). Magnesium is also essential for bone building, nerve stimulus transfer, mental and physical intake, and relaxation, regulating heart rhythm,  blood pressure and blood sugar levels, absorption of vitamin D, muscle functions, detoxification processes and cleaning up lactic acid (after intensive sports or disturbed intestinal flora).
Stress and magnesium
It's common knowledge that stress consumes a lot of magnesium. Stress and social pressure are responsible for a urinary magnesium loss due to the effect of magnesium on certain hormones, such as adrenaline. The lower the level of magnesium in the cells, the more sensitive it is to stress. It causes more magnesium to be lost, and a vicious circle is created. 
In practice, almost 90% of the population needs extra magnesium for this reason. 
Metabolism, magnesium essential in more than 300 body processes
In the case of a massive and long-term shortage of magnesium, the muscles, nerves, and energy metabolism, among other things, come under pressure, which may include heart palpitations, cardiac arrhythmias, spasms, digestive problems, a spastic bowel, chronic fatigue, anxiety, postnatal depression, hypersensitivity, asthmatic complaints and allergies, depression, insomnia, and accelerated osteoporosis (in post-menopausal women).   The digestive organs and the pancreas need magnesium for the action of all enzymes. As a result, magnesium contributes to good digestion and maintaining a stable blood sugar level. Magnesium is also known to be necessary for the conversion of sound stimuli in the ear canal. When exposed to a lot of noise, magnesium can help prevent damage to hearing. Headaches and migraines are caused by magnesium deficiency, among other things. Nano magnesium, in particular, can provide rapid relief through fast absorption into the head. During pregnancy, magnesium contributes to the good development of the child and sufficient relaxation for the mother. It helps to prevent (pre-) eclampsia, premature contractions, and preterm birth. Magnesium also helps to counteract muscle weakness in babies and young children, and it is of great importance for healthy working muscles, including the heart and the vessels. 
Bones and muscles
60% of our magnesium supply is in our bones and teeth. Calcium provides the hardness, and magnesium provides the flexibility, this prevents bone fractures. In the event of magnesium deficiency, the body will draw supply from the bone structure, which can promote osteoporosis. 20% of our magnesium is in our muscles. Approximately 19% in the liver and other soft tissues and only 1% circulate in our bloodstream. However, this 1% is of great importance to our heart, blood pressure, brain function, nervous system, blood sugar level, body temperature, muscle contraction, electrolyte balance, immune response, and hormonal system. In all these processes, the cofactor needed is magnesium. In the absence of magnesium, many processes can become disturbed or stopped. Due to sweating, intensive sports, stress, drug use, and inadequate nutrition, the magnesium levels can quickly decline with the complaints mentioned above.
Complaints due to magnesium deficiency
Because magnesium is involved in so many processes, complaints can be very diverse. The most common are: muscle cramps, (calves, shoulders or neck) tense muscles, back pain, muscle weakness, trembling eyelids or the corners of the mouth, lethargy, menstrual cramps, PMS, decreased libido, migraine headaches, cold hands and feet, nervousness and lack of focus and energy. Because stress contributes significantly to a deficiency, it is wise to supplement magnesium in this situation, in addition to changing diet and lifestyle. 
Usage advice
Nano Magnesium is available in already diluted form and can be taken directly from the bottle, preferably 5 to 10 minutes before eating or at least an hour after that. Keep in the mouth for about 1 minute before swallowing. It promotes direct absorption from the oral mucosa into the bloodstream, resulting in a rapid effect. Do not put the bottle to the mouth, but use the supplied measuring cup, your mug or a spoon. It may also be a metal spoon. Because nano magnesium works quickly, it can be taken just before or after sports for relaxation of the muscles and nerves and renewed energy. Just before going to sleep or right after awakening in the middle of the night, it quickly relieves anxiety and tension. During moments of stress, cramps, headaches, or migraines, one can take nano magnesium (extra)  for rapid relief.       Nano magnesium can also be applied directly to the skin, for example, by using a spray. The skin wholly and quickly absorbs the nanoparticles and penetrates deeply into the muscles and nerves.
When purchasing nano magnesium, please note:
Particle size, preferably below 10nm.

Strength, at least 35PPM, 70PPM, is advisable for most people.

Ask about the zeta potential, and this says something about the strength and stability. It must be at least 40 mv.

Packaging material, preferably dark violet glass, this preserves best.

It should be almost odorless, colorless, and tasteless.

It is produced with pure water.

The shape of the particles, if known. Preferably circular/circular.
Caution: if someone has a (substantial) deficiency of magnesium in the nerves, the person in question may experience a severe feeling of fatigue or drowsiness the first time. It is because the nerve pathways start relaxing at once, through the supplied nano magnesium, which creates a sense of "weakness". However, the deficit will soon be supplemented with nano magnesium, and already at the 2nd or 3rd intake, a feeling of renewed energy and serenity will arise.
Nano magnesium can be used indefinitely    
Magnesium, in general, can be used forever and is sometimes even preferred.  Nano magnesium is very pure, and a good quality contains only water and elemental magnesium, nothing else. Because the particles are so powerful, you need less of it. The magnesium content is, therefore, lower than in other magnesium products where you usually lose a lot of magnesium in the stool. So you can use nano-magnesium indefinitely, even in large quantities if desired.
How do I take it?
Based on nano magnesium with the above characteristics:
Adults: 5 to 30 ml per day, this corresponds to 1 teaspoon to 3 tablespoons. As desired during the day and/or before going to sleep. It may be increased to 90 ml per day. For example, in severe pain, cramps, migraines, or anxiety attacks.   Build up slowly the first time; because of rapid uptake, one can directly enter a "feeling of fatigue". See above.
Babies and children:
0 – 2 years: 5 ml/1 teaspoon per day.
2 – 6 years: 10 ml/1 tablespoon to 20 ml/2 tablespoons per day.
6 – 12 years: 20 ml/2 tablespoons to 30 ml/3 tablespoons per day.
Particularities
Due to the rapid uptake, approximately 60% of nano magnesium users experience an effect within 1 to 20 minutes after ingestion. For example, the withdrawal of cramps, tension headache, or a trembling eyelid. Nano minerals are generally colorless, odor, and tasteless. Sometimes very subtle color, odor, and flavor changes can occur.
Interactions
Magnesium compounds are known to cause some diarrhea or nausea in large amounts or certain bonds. With nano magnesium, that chance is minimal. The lower dose with higher bioavailability prevents this side effect. Potassium-sparing diuretics can lower the magnesium excretion. Some caution with magnesium compounds may be desired. However, nano magnesium can be used safely. Magnesium can strengthen the action of muscle relaxants (such as diazepam and baclofen) and oral antidiabetic drugs. Because of its detoxifying effect, magnesium can reduce the efficacy of medications such as antibiotics (tetracyclines, fluoroquinolones), bisphosphonates, chlorpromazine, digoxin, and thyroid hormone. Preferably take a magnesium supplement at least two hours before or after the medication intake. Magnesium can strengthen the action of muscle relaxants. Magnesium can reduce the need for oral antidiabetics by improving glycemic control. 
Benefits Nano Magnesium
Nano magnesium is a revolutionary form of magnesium that can be absorbed directly into the bloodstream through the skin and mucous membranes. The particles are elemental, so not bound to salt or chelate, such as citrate or oxide. They do not have to be dissected before they can be admitted. They also do not burden other organs and do not need any additives. They are tiny, namely around 2 nm. A nanometer is one-billionth of a meter and 7000 x smaller than a blood cell. For comparison: human hair is approximately 80,000 nm in diameter. Because of this minuscule dimension, they can go through the skin and mucous membrane where they directly enter the bloodstream and even cross the blood-brain barrier. They can also penetrate the finest vessels, nerve tissue, and deeper laying organs. The digestive system is completely bypassed. The bioavailability of nano magnesium is 100%. With pills and powders, often 40 to 60% of the magnesium is lost in the stool. With nano magnesium, you, therefore, needless magnesium for the same effect. Nanoparticles also work energetically. They have a vast electromagnetic field. It means that they exert a strong stimulus on cells and thereby positively influence the energy in the body. They also increase the interaction between cells. Colloidal minerals (minerals between 1 and 1000 nm, floating in a liquid) also attract and remove damaged and dead cells due to their powerful energy field. It's through this that they contribute to a balanced metabolism. 
Magnesium Rovers
Coffee, sugar, and alcohol, just like stress, increase the release of magnesium into the urine. Supplementation with vitamin D (which is often the case nowadays) may cause magnesium deficiency because vitamin D can only be converted to its active form with the help of magnesium: 1.25-dihydroxy-vitamin D. Pesticides, GMOs, heavy metals, and other pollutants rob us of magnesium by attempting to rid the body of it. Calcium (still often prescribed against osteoporosis) and potassium supplementation can cause magnesium deficiency because they need magnesium for their absorption and action. (Accelerated Osteoporosis) Certain medications like antibiotics and antidepressants can lower magnesium levels. Digestive problems can lead to severe magnesium deficiencies. With insufficient or too much stomach acid, inflammations of the (small) intestine, defective intestinal flora, or celiac disease, for example, the absorption of nutrients is significantly reduced. Also, often, too many dairy products and sugars are eaten, such as white bread, cheese, pasta, crackers, cold meats, biscuits, custard, yogurt, etc. that rob the body of magnesium for processing.
Good sources of magnesium are
Whole grains like spelt and buckwheat, leafy green vegetables, nuts, seeds, dark chocolate, and legumes. Unfortunately, the majority of the western population are consuming too little of these foodstuffs. More dairy products and fast sugars are used that can lead to further robbery because the body needs magnesium to process them. Besides, the food, due to soil depletion, no longer contains the quantities we need as humans. According to a study Ciba-Geigy, carrots, for example, contain 59% less magnesium in 1996 compared to 1985. What was it in the '1900s? And now, in 2017? Only calcium, phosphorus, and sulfur are added to fertilizer. The remaining minerals (more than 73!) are not added, and these are, therefore, mostly missing in our diet. Supplementation via a mineral supplement is, therefore, more often necessary than desired.
Sources
Publication: Fit met voedingssupplementen, Dr. Gert E. Schuitemaker, Drs. Toine de Graaf (translated: Fit with dietary supplements, Dr. Gert E. Schuitemaker, Drs. Toine de Graaf)
Publication: Readers digest, gids voor vitaminen en mineralen (translated: Readers Digest, guide to vitamins and minerals)
Publication: Vitamines en Zelfzorg, Ruud Nieuwenhuis (translated: Vitamins and Self-care, Ruud Nieuwenhuis)
Publication: The Magnesium Miracle, Dr. Carolyn Dean
http://encyclopedia2.thefreedictionary.com/Oligodynamic+Action http://www.natuurlijkerwijs.com/mineralen.htm#magnesium http://www.sohf.nl/nutrient/magnesium http://www.orthokennis.nl/nutrienten/magnesium http://naturafoundation.nl/monografie/Magnesium.html  
Was dit artikel nuttig?
Help ons om onze site te verbeteren