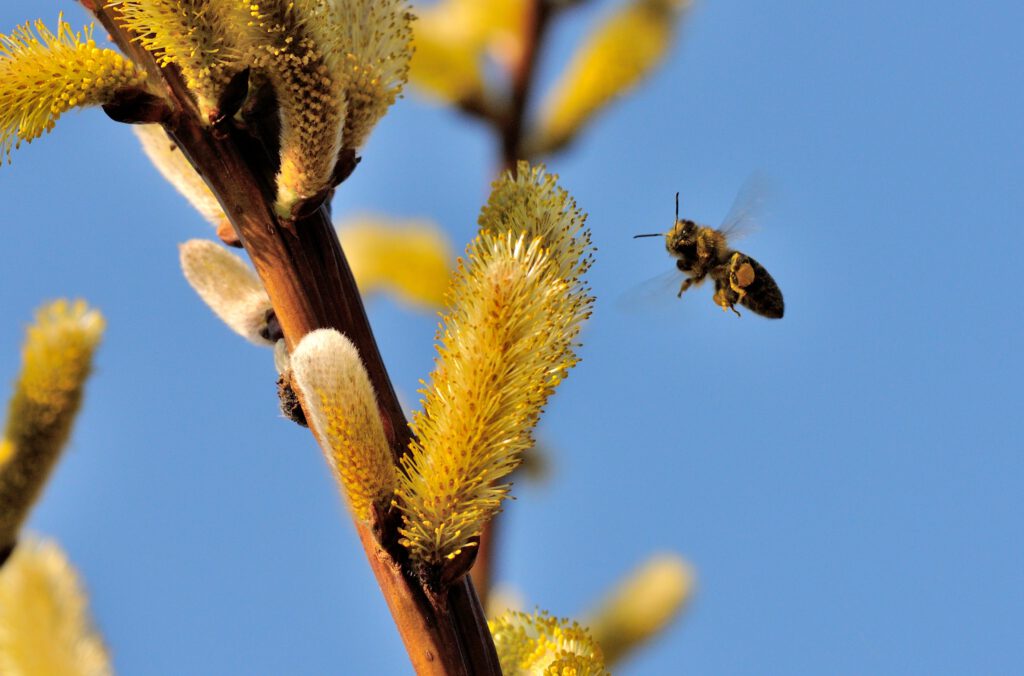 A stuffy nose, sneezing, stuffy, itchy eyes. No, hey, it's time again: hay fever. The pollen from trees, grasses, and herbs cause annoying allergic symptoms for many people. Antihistamines work quickly and effectively but only suppress the symptoms, while you can also address the cause.   And that starts in your gut! In this article, we will tell you how you can get your gut back in order to keep hay fever at bay.
What exactly is hay fever?
If you have hay fever, then you can't stand the pollen from trees, grasses, and herbs swirling through the air. It may be because you have a congenital allergy or an overloaded immune system. Your body reacts to this pollen by making more histamine, and this causes complaints. Because this happens during the flowering of trees, grasses, and herbs, most people experience these symptoms, especially in spring.
But due to the changing climate and increasingly warmer temperatures, trees and plants are blooming earlier and earlier. As a result, the hay fever season also seems to start earlier every year. It is very annoying for the people who have complaints because hay fever can cause many different and annoying symptoms. Some people suffer so much that they would lock themselves inside rather than go outside to enjoy the sunshine. Dry, sunny, and windy weather make the symptoms even worse!   
What does a pollen allergy do?
Itching. It is the main symptom of hay fever or pollen allergy; itchy eyes, nose, and throat. That is due to the pollen from trees, grasses, or herbs, also called pollen, and your body's allergic reaction to it. Your body produces histamine to deal with intruders. The mucous membrane in your nose, throat, eyes, and airways thickens and you make more mucus. Then the itching, sneezing, coughing, and tears begin.
Furthermore, you may suffer from shortness of breath and even asthma, a stuffy or runny nose, tickling coughs, a full head, fatigue, and fever. And those are just the officially registered symptoms of hay fever. An excess of histamine in your body can cause many more complaints. How about abdominal pain, diarrhea, bloating, flatulence, and nausea? Even a worsening of eczema, migraines, heart palpitations, and insomnia can be related to high histamine levels.
Possible causes allergy pollen
Although a small percentage of people are born allergic to pollen, more and more people develop hay fever later in life.  And that's not surprising at a time when we're getting more and more toxins on our plate. As a result, our liver, intestines, and other organs are put to work constantly. If it also has to clean up other intruders such as pollen, the immune system quickly becomes overloaded, and you can suddenly get hay fever.  A leaky gut caused by, for example, candida strain or a combination of food hypersensitivities can also be a cause.      
Natural treatment hay fever
Making sure you get as little pollen as possible seems the most obvious solution, of course, but with what result? That you are one of the few people locked inside while others enjoy a day of sunshine? Yet, the symptoms can be so severe that some prefer to opt for this.
In such a case, it is essential not to wait with action until the complaints begin. Because then you can only fight a symptom. Many allergic complaints start with an imbalance in our intestines. So are you suffering and want to treat your hay fever naturally? Then try addressing your gut health with a natural remedy against hay fever first! 
Step 1: Cleaning the bowels
If you want to address your gut health, start by cleaning it. After all, you clean your house before you put in new stuff. Well, then! So get started with a good gut detox. Nano silver is perfect for this! Not only does it kill the excess of invaders and pathogens, but it also restores the balance between your good and bad bacteria in your gut. Thus, it will simply clear out excess histamine, viruses, and fungi.
Silver water can also be combined with zeolite. This mineral can bind heavy metals, toxins, ammonia, and histamine and thus clear them. Drink a lot of water, preferably purified, to dispose of all waste; at least two liters per day, but more is also allowed! Don't forget to take in lots of prebiotic fibers because this also binds your waste and drains it more easily. 
Step 2: Restoring intestines
With all that hard work, your intestines and especially your intestinal lining have had a lot to deal with. So don't forget to strengthen them. L-glutamine and nano zinc are excellent for this. The amino acid l-glutamine has a healing effect on the intestines, and zinc promotes the repair of a damaged intestinal wall and inflammation and the intestinal lining.  Omega-3 fatty acids and colostrum are also known for their healing effect on the intestinal lining. Colostrum is also rich in valuable antibodies called immunoglobulins.
Step 3: Strengthen intestines
Once your gut has recovered, you can help it further by taking probiotics. But be careful not to buy a probiotic randomly. Probiotics are a collection of bacterial strains, and one strain has a different effect on your gut than another. For example, some bacteria produce even more histamine with all the unpleasant consequences. Fortunately, there are also strains of bacteria that inhibit precisely that histamine production.   Phytostandard will soon launch a probiotic treatment containing the right combination of these strains.
Avoid these strains in case of hay fever:
Lactobacillus bulgaricus
Lactobacillus casei
thermophilus
Lactobacillus delbrueckii
Use these strains in case of hayfever:
Bifidobacterium infantis
Lactobacillus gasseri
Lactobacillus rhamnosus
Bifidobacterium longum
Lactobacillus plantarum
Bifidobacterium breve
Lactobacillus salivarius
Step 4: Avoid Histamine
Because your body reacts to an allergen by producing histamine, the histamine levels in your gut will be pretty high during the hay fever season. Therefore, help your intestines by eating as little histamine-rich and histamine-free foods as possible during that period, such as fermented foods, aged cheeses, red wine, chocolate, and sugar.
Step 5: Relieve hay fever symptoms
Of course, it helps if you come into contact with as little pollen as possible, but you have probably heard and done all those advice a thousand times. Have you done that and all of the above and still suffer from allergic symptoms? Then, of course, there are antihistamines as a regular medication.
For example, did you know that skullcap herb (Scutellaria), quercetin, and black currant (Ribes Nigrum) are known for their calming properties in allergies? Vitamin C has also long been known to have a regulatory effect on your body's histamine response. And have you ever heard of simple dandelion (Taraxacum)? It not only stimulates your digestion, liver, and kidneys but also has a histamine inhibiting effect.
If you have a lot of trouble with your throat, nose, and ears, a nasal spray against hay fever with nano minerals silver and zinc in it will provide you with a lot of relief. You can use the spray both preventively and curatively. Because the particles are so ultra-small, they provide immediate relief. For example, zinc acts as an antihistamine, anti-inflammatory, and restorer of your mucous membranes, while silver disinfects and increases local resistance.
Written by Sandra Zuiderduin
Was dit artikel nuttig?
Help ons om onze site te verbeteren