Why do you fail to lose weight?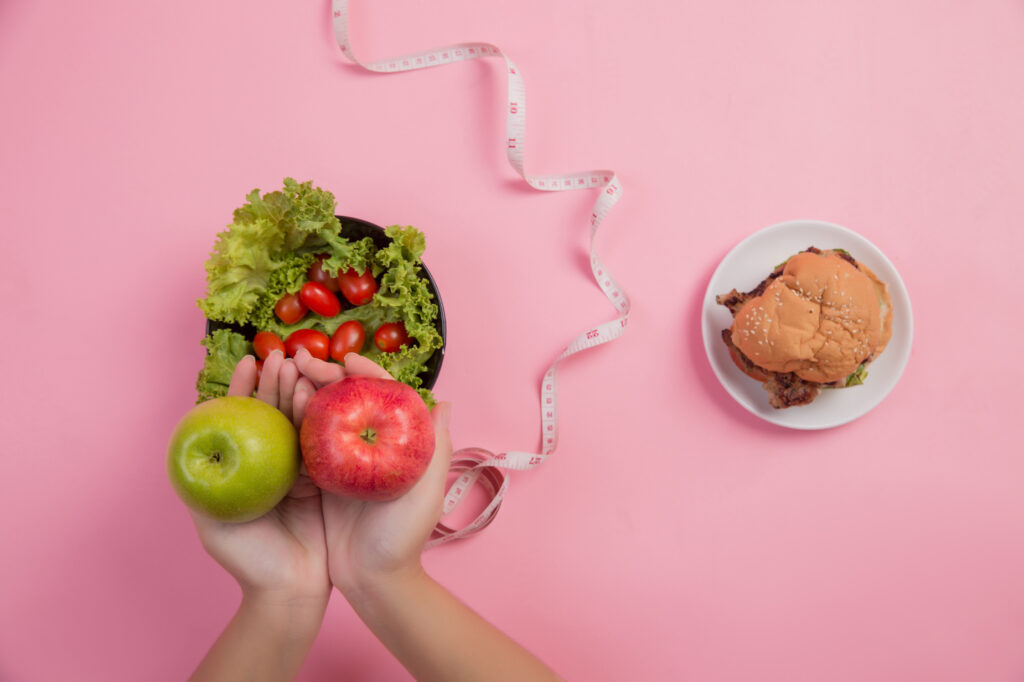 Unnecessary kilos and chronic weight problems. We all know that this is almost always a result of poor nutrition and insufficient exercise in general. But what is good nutrition and what is the best food to eat for which weight problem? What kind of exercise can you use for your excess pounds? For this, it is important to first find out the cause of your extra kilos. Do you know this already? Then tackling it is just a piece of cake. Because eating is also knowing!
Most common weight problems
– cravings all day long
– bloated belly
– cellulite
– fat around the waist
– binges
– sticky kilos
Cause of all-day cravings: blood sugar
Are you hungry all day long? Then you might just be suffering from fluctuating blood sugar. And that's a disadvantage. The more unstable this glucose level is in your blood, the worse it is for your body and your weight. Normally our body keeps this blood sugar level in our blood exactly in balance, but wrong foods can disturb this balance.
The body gets its blood sugar mainly from food. Carbohydrates that you eat enter the blood as glucose. This blood sugar goes throughout the body and gives your cells energy. Problem with "fast" carbohydrates and refined sugars? Your blood sugar level shoots up at lightning speed only to collapse completely again. The result? You are even hungrier, want to eat more to get out of the dip and everything starts all over again. Not good, because that's where those extra pounds and that eternal yo-yo comes from.
But what can you eat? Choose rather 'complex carbohydrates' such as wholemeal pasta, spelt and oatmeal. These are absorbed much more slowly by the body and release their energy more slowly. This keeps your blood sugar more stable, you have fewer dips and less appetite. After all, you suffer less from peaks and troughs and therefore need to snack less to compensate.
Cause of bloated belly: bread
How can it be that you do your best with sit ups and diets, but that there is still such a bloated ball over the edge of your bikini? How so? Tja…. wheat bread, there is something in it, namely a lot of substances that your intestines do not like. Gluten, for instance, is hard on the stomach because it is difficult to digest. Or harmful lectins and phytates that damage our intestinal wall. All of these are the culprits of your bloated belly.
So try to eat less bread. Start the day with a delicious oatmeal breakfast, for example. Have a salad at noon. Both will give you much more and longer energy and your belly will become considerably flatter. Do you still like bread too much to leave it out altogether? There is also gluten-free bread made with flour from corn, teff, rice and / or buckwheat. Or replace the wheat with spelt. This has a better gluten distribution and is therefore easier to digest. Belly happy, you happy!
Cause of cellulite: adhesions and expansion
Dimples in your legs, buttocks and thighs. Aaargh… no way, that looks ugly. What if you want to go to the beach in a bikini? That is cellulite, also called an orange skin because of the similarity. Cellulite is a tightening and swelling of the subcutaneous connective tissue.
Fat cells that expand seem to be the main cause for the appearance of cellulite. However, genetic predisposition, hormones, ancestry, age and skin thickness also play a role. Other culprits? Caffeine, nicotine, refined foods such as sugar, lots of salt and the contraceptive pill.
Unfortunately, almost every woman has to deal with those ugly welts and bumps. But that doesn't mean you can't do something about it! With an active, healthy lifestyle with good nutrition, at least 2 liters of water a day, enough varied exercise and regular massage, you can achieve a lot! It is difficult to solve cellulite, but perseverance wins.
Cause belly fat and 'middle fat': hormones
What is it with those excess pounds around your belly, legs, buttocks and hips that just won't go away? Are you overweight, do you have fat in the wrong places and can't seem to lose weight? Then it could be that your hormones are out of balance. And that can cause a lot of unpleasant symptoms!
As small messengers, they inhibit or stimulate our organs and tissues and regulate a lot of important processes. Did you know that our hormones determine for example our growth, our character, the metabolism, fat distribution and even our behavior? If hormone levels drop, then we age and change, literally and figuratively, very quickly.
The good news is that with healthy eating and a conscious lifestyle you can slowly bring your hormones back into balance. The most suitable diet for this is the paleo diet. For example, proteins are the basis and building material for the hormones, but also the right fats and fermented foods generally contribute to a healthy hormone balance.
With whole foods that contain enough excipients in the form of vitamins, minerals, antioxidants and trace elements, you lay a good hormonal foundation. Avoiding sugars, caffeine and carbohydrates as well as eating late at night certainly help too. Choose organic to ward off the toxins that would otherwise accumulate in your body.
Cause of binge eating…..'yummy cravings'
The whole day went well, but then you come home from work, plop down on the sofa and…. start snacking again. Darn! Of course, the kilos keep on coming with these many eating binges. Why can't you control yourself? And more importantly, what can you do about it?
If you binge at night because you're hanging out in front of the TV, it's best to find some distraction. Otherwise, you're just sitting there watching TV and mindlessly munching away. Don't! Rather, grab a knitting project or read a book.
A common mistake in losing weight is to cut down on daytime meals. Because you don't get enough nutrients during the day, your body signals in the evening that it needs to catch up. So make sure you have at least three full meals a day.
Did you know that hunger and thirst are regulated in the same part of the brain? So it sometimes happens that your body confuses hunger with thirst. Simple trick when you feel your appetite coming on: drink a large glass of water and wait a few moments to see if the hunger stays.
Cause of sticky kilos: poor exercise
Sitting still is not exactly good for us, we all notice and feel that nowadays. Especially the kilos that very unnoticed increasingly stick to us. This is mainly because, since the arrival of Corona, we work at home more often and therefore sit still more and move less.
The best way to lose weight is to combine a lower energy intake with exercise. In addition to a daily minimum of half an hour of moderate intensity exercise, it is also advisable to do some strength training. This will ensure that you lose as little muscle mass as possible and that your metabolism will run at a higher speed.
It is especially important that you choose an exercise and sports routine that you can maintain for a long time. Also make sure that you eat enough protein to preserve your muscle mass as much as possible. You need more protein when you exercise more. This is especially true if you do strength training.
Written by: Sandra Zuiderduin
Was dit artikel nuttig?
Help ons om onze site te verbeteren