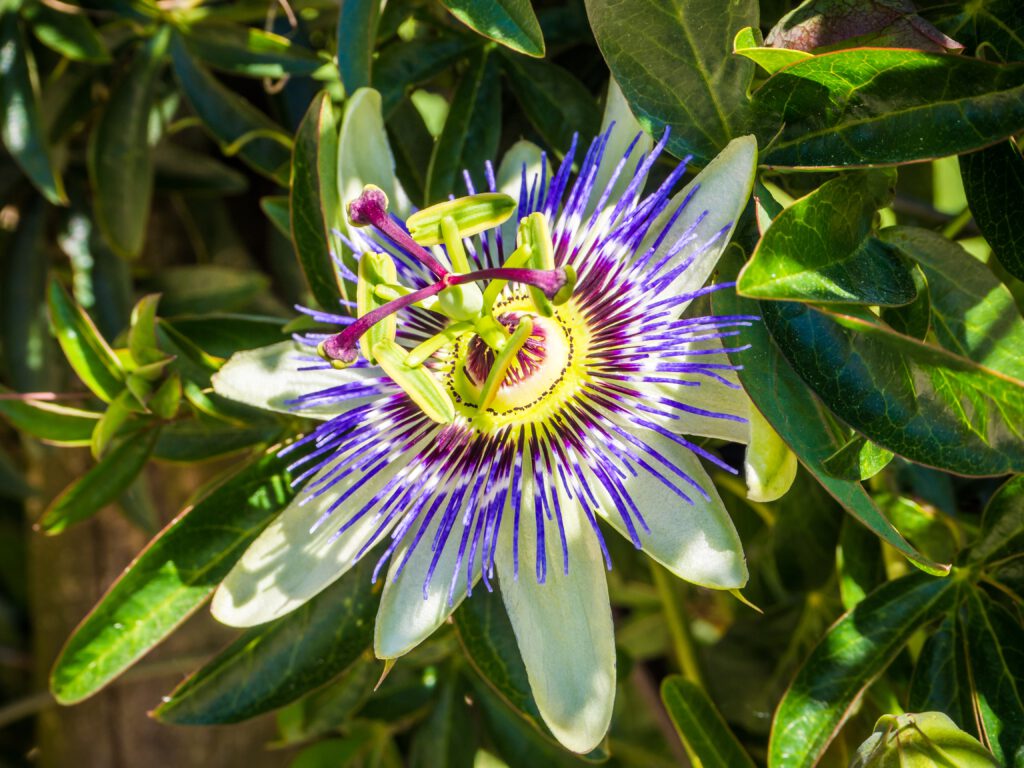 Just looking at the passionflower gives a deep sense of calm. And that's precisely the
power of passionflower as a supplement: it has properties that take away anxiety, worry,
and relax body and mind. All this without making you dull; on the contrary,
passionflower improves your focus.
Passionflower (also called 'passiflora'), originally from the Americas, also grows in the Netherlands. Maybe you even grow it as an ornamental plant in your garden. America's original inhabitants have been using passionflower medicinally for nerve pains and restlessness for centuries, and that is what you can use it for today. 
Passion flower for a deep sleep
This beautiful purple flower is often used in herbal medicine in people who have difficulty falling asleep. Racing thoughts, anxiety, and worries can make it difficult to fall asleep, leading to little energy the next day. Passionflower calms your mind, creating space to fall asleep.
Research (1) shows that a cup of passionflower tea before bed can significantly improve sleep without side effects. In another study (2), passionflower action was compared with the drug oxazepam, a drug often used by doctors for sleep problems. The research showed that the result of passionflower and oxazepam is the same, apart from one thing: people who had used oxazepam felt quite dull the day after and functioned less well during their work. In contrast, the group that had taken passionflower did not experience these after-effects.
I have also heard that people had a better focus the day after taking passionflower because they experienced more peace and space in their minds. This way, they were less distracted by thoughts and were better able to concentrate.
Unwind with "passiflora"
Passiflora not only supports a healthy night's sleep but also gives you more peace of mind during the day. Especially in uncertain or stressful periods, such as during exam periods, passionflower is an excellent plant to use. 
Passionflower relaxes the body and mind without reducing your concentration or reaction time. The herb is beneficial for those who suffer from the expectations, achievements, and desires of others.
Renewed passion for life
In that respect, passionflower brings you back to yourself, to your inner wisdom. The plant has a grounding effect that supports you in letting go of the expectations of others. That helps you remember what is important to you and helps shape your own life. Passionflower gives you the self-help you need to start something new, rely on your intuition, and make bold steps. The passionflower helps you feel the excitement for life again.
Passion flower's invitation
Passionflower grows in the middle of summer, a time when we are all invited to relax body and mind, precisely what this flower helps you with. Just look at the bees; all summer long, they crawl into the heart of the flower to pollenize themselves completely and then take a nap in the middle of the flower. With passionflower, you also get the chance to relax and recharge to focus on the things that are important to you again.
Use
You can take a passionflower supplement both before bed and during the day because it does not make you dull. The flower helps you relax and calm down, which improves your focus and sleep. Unlike golden poppy and valerian, passionflower in the proper dosage is also suitable for children.
Always consult a doctor or phytotherapist before use. Not suitable when taking medicines during pregnancy or breastfeeding.
Sources:
(1) Ngan A, Conduit R. A double-blind, placebo-controlled study of the effects of Passiflora incarnata () herbal tea on subjective sleep quality. Phytotherapy Res. 2011 August;25(8):1153-9.
(2) Skhondazedeh, S., Nahhavi, H.R., Vazirani, M., Shayeganpour, A., Rashidi, H., Khani, M. Passionflower in the treatment of generalized anxiety: a pilot double-blind, randomized controlled study with oxazepam. J Clin Pharm Ther. 2001 Oct;26(5):363-7.
Written by: Charelle Casander
Was dit artikel nuttig?
Help ons om onze site te verbeteren