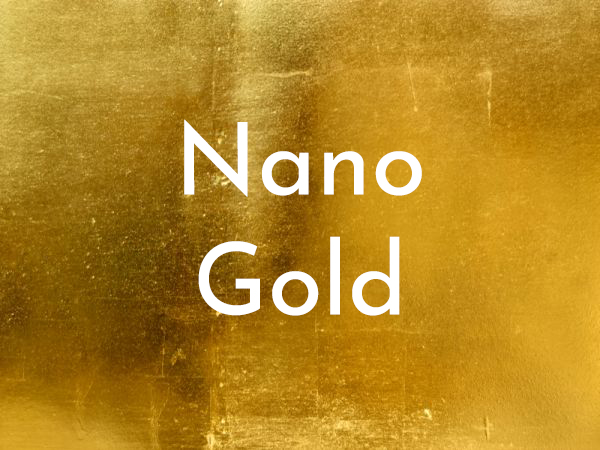 For depression, nerve disorders, joint complaints, and aging skin.
Increases dopamine, stimulates stimulus transfer, improves brain function, inhibits sterile inflammations, regenerates the body, and mind (repairs DNA and RNA).
100 ml, 200 ml, and liter, to be used for:
Depression and lethargy (dopamine deficiency)
Joint complaints
– Arthritis
– Rheumatism
– Tendon inflammation and bursitis
Nerve disorders (together with nano-magnesium)
Skin aging and Couperose
– Collagen Booster
– Anti-wrinkle
– Refinement of pores
Can also be used for:
Autoimmune disorders
Alzheimer's (together with nano platinum)
Fibromyalgia (together with nano magnesium)
Memory complaints and IQ stimulation
Parkinson's (along with nano platinum)
Addictions
Energetically, gold works on the heart, and it makes the heart happy. Gold supports awareness.
Dosage:
Early complaints dosage: slowly build up to max. 30 ml or 3 tbsp/day (full measuring cup).
Day 1: 1 tablespoon
Day 2: 2 tablespoons
Day 3: 3 tablespoons (full measuring cup). Maintain this dosage.*
Gold exterior application: apply a few drops to the skin on the face, neck, or on inflamed joints/tendons (with pipette bottle).
Maintenance dose: 1-3 teaspoons per day or e.g., 2 x per week 1 to 3 tablespoons.       
Children:
Up to 2 years: a few drops up to 1 teaspoon/5 ml per day
2 to 6 years: 1 teaspoon/5 ml up to 1 tbsp/10 ml per day
6 to 12 years: 1 tbsp/10 ml up to 2 tbsp/20 ml per day 
*Sensitive people use the child dosage of 6-12 years
 More information coming soon.
Was dit artikel nuttig?
Help ons om onze site te verbeteren